» School Shooting Exercise Portrays Student as Anti-Illegal Immigration Terrorist
Infowars.com
March 24, 2011
The 912 Project-Nebraska Message Board warns that the Department of Homeland Security and officials in Pottawatamie County, Iowa, plan to hold a school shooting exercise on March 26 that portrays a student opposed to illegal immigration as a white supremacist.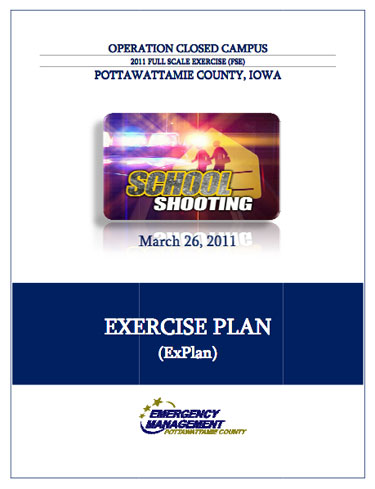 "This Saturday, Pottawatamie County and Homeland Security are conducting an exercise with the Treynor, IA Community Schools and will simulate a school shooting," writes Michael Patomson of Council Bluffs, Iowa. "The premise of the mock shooting has been changed to suggest that a student, whose parents oppose illegal immigration comes to school with a gun and shoots a Latino Student."
Patomson received a PDF entitled "Operation Closed Campus" from the father of a student who was asked to participate in the exercise.
"The premise is that a white teen boy, whose family is involved in anti-illegal immigration rallies and favor guns, goes to school and shoots a Hispanic in a rural school," writes Joan Becker in an email. "This premise is politically motivated, as it is the view of the Democrats in power that white American citizens who believe in all of their Constitutional rights are extremists and terrorists. It is an act of silencing my family, and it is an act of intimidation of all American citizens who believe in our rule of law."
The PDF describes the shooter's father as connected to an "underground white supremacist group" involved in violent demonstrations. The family is described as Second Amendment "fanatics" in possession of a large cache of weapons, including materials for the manufacture of IEDs. The scenario is right out of the Department of Homeland Security's playbook.
The DHS' "Right-wing Extremism: Current Economic and Political Climate Fueling Resurgence in Radicalization and Recruitment" document connects white supremacists with the militia movement, advocates of the Second Amendment, activists opposed to illegal immigration, and other loosely defined "antigovernment" groups.