Scotland Yard to mount one of its biggest ever operations on the day of the wedding amid fears of disruption by activists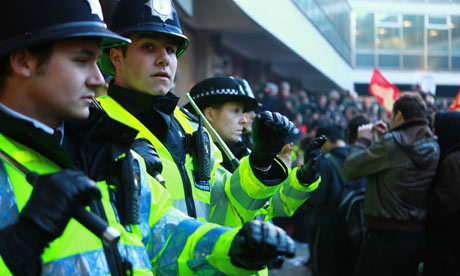 Police across the country could make pre-emptive strikes in the coming days to arrest activists intent on causing trouble during the royal wedding, Scotland Yard has revealed.
The Metropolitan police are working with other forces across England and Wales and using local intelligence to identify activists and anarchists who they believe are committed to carrying out criminal activity on 29 April.
"We will attempt to prevent people coming to London to carry out criminal activity," said assistant commissioner Lynne Owens, head of central operations at Scotland Yard, adding there would be police activity in the days ahead of the event to "disrupt any criminal behaviour that may be anticipated".
But the tactic of making pre-emptive arrests of groups or individuals planning demonstrations is controversial. Police have to prove that a criminal plot has taken place before moving in, or that a breach of the peace is imminent, for example seconds, minutes or possibly hours away, according to legal experts.
Scotland Yard has also said that two groups have applied for permission to protest in the immediate area of the wedding on the day. Muslims Against Crusades, an offshoot of the outlawed group al-Muhajiroun, is in ongoing discussions with the police. The Yard has refused them permission to demonstrate outside Westminster Abbey but cannot stop them mounting a static protest elsewhere. In response, the English Defence League has indicated they will mount a counter-demonstration, raising fears of a flashpoint on the day.