US helicopter shot down in Afghanistan was on rescue mission | World news | The Guardian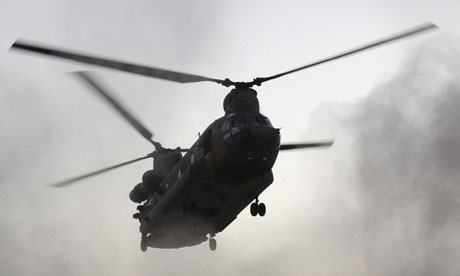 The US Navy Seals and other troops whose helicopter was shot down in eastern Afghanistan had rushed to the mountainous area to help a US army ranger unit that was under fire from insurgents, two US officials said Sunday.
The rescue team had completed the mission, subduing the attackers who had the rangers pinned down, and were departing in their Chinook helicopter when the aircraft was apparently hit, an official said.
Thirty Americans and eight Afghans were killed in the crash, making it the deadliest single loss for U.S. forces in the decade-long war in Afghanistan. The rangers, special operations forces who work regularly with the Seals, afterwards secured the crash site in the Tangi Joy Zarin area of Wardak province, about 60 miles (97km) southwest of Kabul, an official said.
On Sunday, Nato began an operation to rec