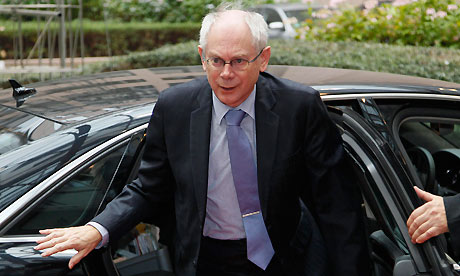 The European commission could be empowered to impose austerity measures on eurozone countries that are being bailed out, usurping the functions of government in countries such as Greece, Ireland, or Portugal.
Bailed-out countries could also be stripped of their voting rights in the
European Union
, under radical proposals that have been circulating at the highest level in Brussels before this week's crucial EU summit on the sovereign debt crisis.
A confidential paper for EU leaders by the EU council president, Herman Van Rompuy, who will chair the summit on Thursday and Friday, said eurobonds or the pooling of eurozone debt would be a powerful tool in resolving the crisis, despite fierce German resistance to the idea.
It called for "more intrusive control of national budgetary policies by the EU" and laid out various options for enforcing fiscal discipline supra-nationally.
The two-page paper, obtained by the Guardian, formed the basis for discussions on an interim report tabled by Van Rompuy, the European commission and the Eurogroup of countries that have adopted the
euro
, which is to be debated on Wednesday among senior officials in an attempt to build a consensus ahead of the summit.